---
Azerbaijan Republic
Azərbaycan Respublikası (azeri), The Republic of Azerbaijan (english)
Capital: Baku
Official language: Azeri
Geography: National borders: Caspian seaboard to the East, Russian Federation to the North (region of Daghestan), Georgia and Armenia to the West and Iran to the South.
Area: 86,600 sq km
Territorial division: Left intact from the Soviet Union and includes 66 rayons, 12 national municipal districts and one autonomous territory, the Nakhichevan Autonomous Republic. The Rayons are subdivided into municipalities, 2698 in all. Baku and Gianja are two cities administered by the central government.
Population: 10,1 mio (2022)
Area code: +994
Currency: Azerbaijani manat (AZN), 1 manat = 100 gapik.
Milli M

a

jlis of the Azerbaijan Republic
Unicameral legislative, originally established on 28 May 1918 at the declaration of independence of the Azerbaijan Democratic Republic under the name of the National Assembly. After the dissolution of the Soviet Union, reestablished on 26 November 1991 by the decision of the Conciliatory Commission of the Supreme Soviet of Azerbaijan.

Seats: 125

Mandates: MPs are elected for five-year terms on a majoritarian principle through general, equal, free, direct elections with personal and secret ballot. Mandates are open for contest for citizens over 25 years old.
https://www.meclis.gov.az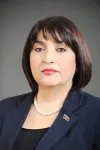 Sahiba Gafarova
Azerbaijan Republic
Speaker of the Milli Majlis of the Azerbaijan Republic