---
Vyacheslav Volodin Re-Elected Speaker of State Duma of Federal Assembly of Russian Federation
12 October 2021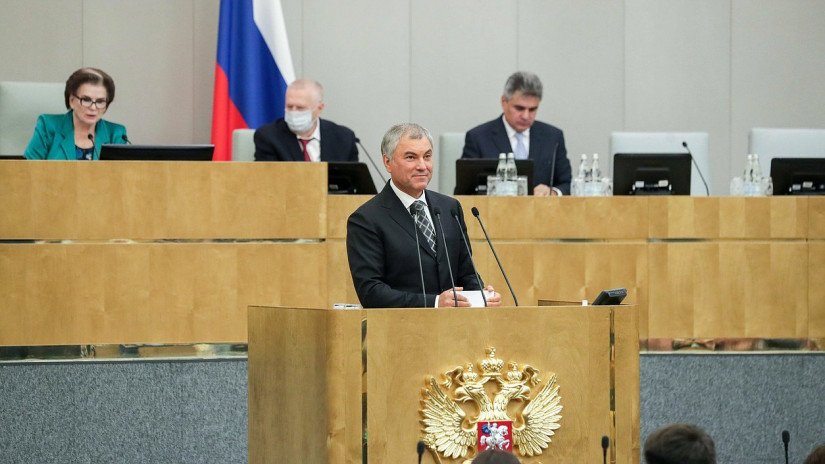 On 12 October 2021, the first plenary session of the State Duma of the Federal Assembly of the Russian Federation of the eighth convocation took place. During the meeting, the MPs considered a number of organizational issues.
The representative of the United Russia Valentina Tereshkova opened the plenary session. The representatives of all political parties elected to the State Duma also spoke at the meeting. 
During the meeting, the Speaker of the State Duma and his deputies were elected. Vyacheslav Volodin took over the post of the Speaker again. Alexander Zhukov (United Russia) and Ivan Melnikov (Communist Party of the Russian Federation) became the first Deputy Speakers of the State Duma. Aleksey Gordeev, Anna Kuznetsova, Irina Yarovaya, Petr Tolstoy, Sergey Neverov, Sholban Kara-Ool became deputies from the parliamentary majority faction. Alexander Babakov (Just Russia - For Truth), Boris Chernyshov (LDPR), Vladislav Davankov (New People) also became deputies of the Speaker.
During the first plenary session, the MPs also registered parliamentary groups, approved the composition of committees and commissions and considered the issues on amending the Rules of Procedure and the work schedule of the MPs in the course of the autumn session.
Photo: http://duma.gov.ru/
---