---
Tavricheskiy Palace hosts UNWTO General Assembly
10 September 2019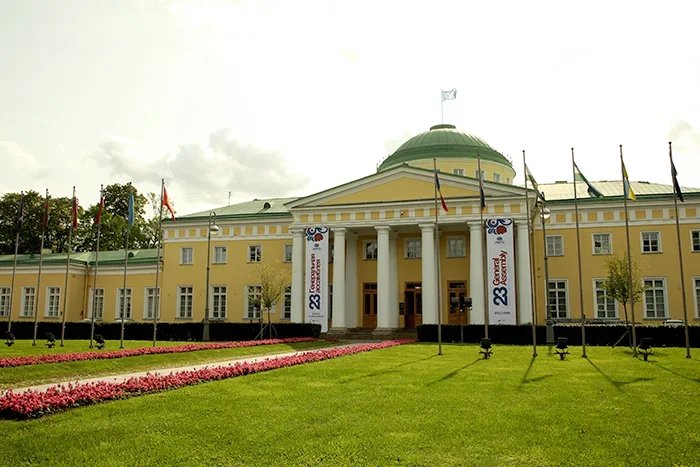 The High Level Forum on Medical and Health Tourism kicked off in the Tavricheskiy Palace - the IPA CIS headquarters. The meeting is the key event of the 23rd session of the UNWTO General Assembly, taking place in St. Petersburg on 9-13 September 2019.
Head of the Russian Federal Agency for Tourism Zarina Doguzova, Chairman of the US Medical Tourism Association Jonathan Edelheit and former football player, 'Bionox' Group founder and UNWTO Ambassador for Sustainable Tourism Fernando Hierro are on the list of speakers of the event. The debates will bring together ministers and leading experts of the countries developing medical and health tourism.
The other events of the session were held earlier that day in the Tavricheskiy Palace, including the meeting of the UNWTO Regional Commission and the Associate Members meeting.
The UNWTO sessions are the major events of the world tourism industry. This year the UNWTO session brought together over 1500 delegates from 158 countries to discuss the global challenges for tourism. The event is co-organized by the Russian Federal Agency for Tourism and the Government of St. Petersburg.
On 11-12 September, the 2nd travel forum Saint Petersburg Travel Hub will take place along with UNWTO session and bring together leaders of the tourism community and experts in the field of tourism from 57 regions of the Russian Federation.
The substantial part of the program features 10 discussion sessions and round tables on the relevant issues of industry development, including the promotion of medical and health tourism, international cooperation in the humanitarian sphere and sustainable development of regions as tourist destinations.
Secretary General – Head of the IPA CIS Council Secretariat Dmitriy Kobitskiy will make a presentation at the discussion session "International Cooperation in the Humanitarian Sphere as a Driver of Tourism Development through Cross-Cultural Dialogue: New Formats and Projects".
---