---
CIS Observer Mission Drew Outcomes of Monitoring of Presidential Elections in Republic of Belarus
10 August 2020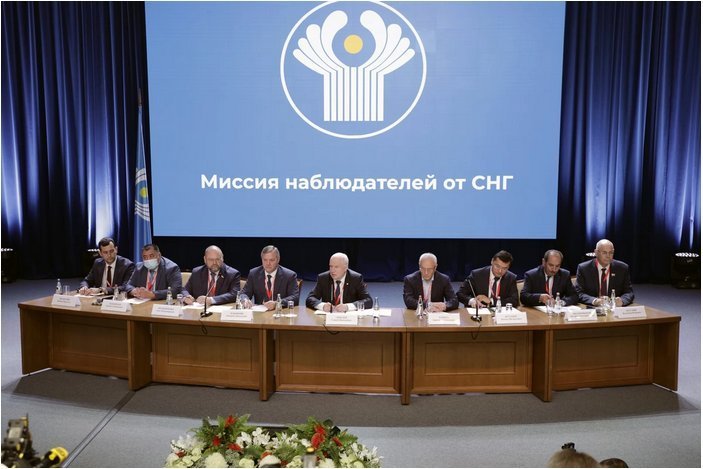 The Palace of the Republic in Minsk hosted the press-conference of the CIS Observer Mission, which completed the series of events in the framework of the monitoring of preparation and holding of the presidential elections.
Head of the CIS Observer Team, Chairman of the Executive Committee – Executive Secretary of the CIS Sergey Lebedev noted that 184 representatives of eight Commonwealth countries worked within the CIS Mission.
He stressed that the monitoring was performed in all the regions of the republic both during the early voting and on the election day.
Sergey Lebedev noted the good organization of the elections and training of all members of the election commissions.
The COVID-19 pandemic has significantly complicated the electoral campaign.
Sergey Lebedev stressed that the CIS observers commended the early voting, which had already been implemented in a number of European countries.
The Head of the Mission told that minor violations noted by the observers had not been widespread and had no impact on the electoral process. The CIS observers concluded that the elections on 9 August were held in accordance with the Constitution and the electoral legislation of the Republic of Belarus. Sergey Lebedev said they were free and competitive and ensured the expression of the free will of the citizens of Belarus.
IPA CIS Observer Team Coordinator, Chairman of the Committee of the Federation Council of the Federal Assembly of the Russian Federation on Federal Structure, Regional Policy, Local Government and Northern Affairs Oleg Melnichenko stressed in his statement that the IPA CIS observers performed monitoring on 124 polling stations, observed the work of the election commissions and interviewed the observers. He told that the observers, including those nominated by the opposition, had been present at all polling stations visited by the IPA CIS Observer Team and had not noted any violations, except for the minor ones.
IPA CIS Council Secretary General Dmitriy Kobitskiy said that the IPA CIS international observers worked also at the foreign polling stations in Baku (Azerbaijan Republic), Yerevan (Republic of Armenia), Chisinau (Republic of Moldova), Moscow and St. Petersburg (Russian Federation).
Photo: http://cis.minsk.by
---