---
IPA CIS convened the first meeting of the Expert Council on Healthcare
26 September 2013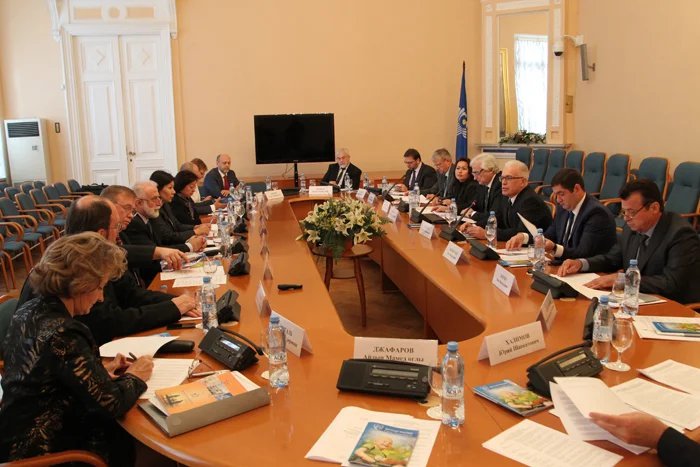 Opening the meeting, IPA CIS Council SG Alexey Sergeev reminded that the Act on Forming the Expert Council on Healthcare was signed by Chairperson of IPA CIS Council Valentina Matvienko on 11 April 2013. He noted that the items on objectives and program of work of the IPA CIS Expert Council on Healthcare in 2013-2014 and on converging and harmonizing health legislation of the CIS Member Nations will set the vectors of the Council activity moving forward.
The Council included members of CIS parliaments, therapists, and officials. Yuriy Scherbouk, Distinguished Therapist of the Russian Federation, contributing member of RAMS is presiding at the Council.
The meeting focused on healthcare issues in CIS Member Nations, harmonizing healthcare laws, and basic objectives of the Expert Council. In particular, the participants paid attention to the challenge of diabetes, one the most wide-spread diseases on the planet. A lot has been said on the diabetes pandemics, its scale and aftermaths.
Azerbaijan and the Kyrgyz Republic were the first CIS nations to adopt laws on countering the spread of diabetes. Similar acts are being prepared in Russia, Armenia, Kazakhstan, and Moldova. Echoing the UN call, on 14 November 2008, the World Diabetes Day, CIS Heads of State signed an agreement on combating growth of diabetes incidence, including provision of treatment to diabetes patients in any country of the CIS. Belarus, Moldova, Kyrgyzstan and Ukraine have ratified the Agreement. Further ratification shall become one of the objectives of the IPA CIS Expert Council on Healthcare.
---