---
Number of Bilateral Meetings Took Place Within IPA CIS Spring Session
15 April 2021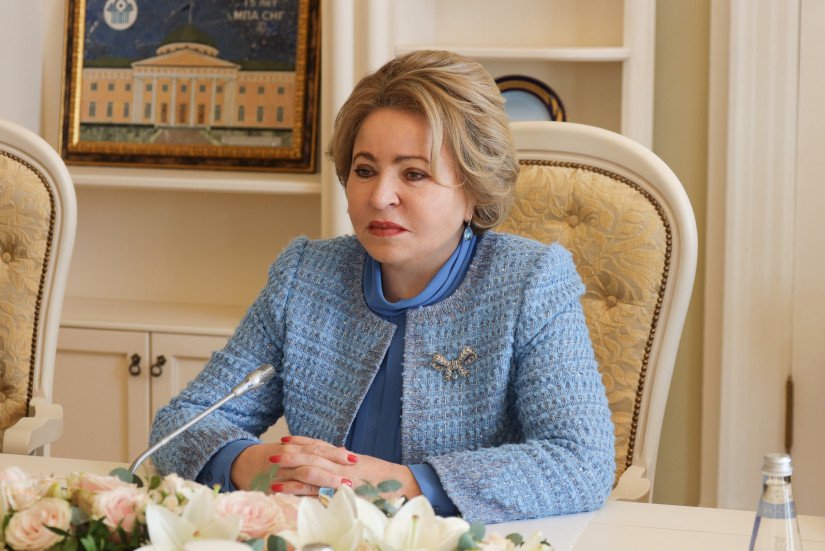 Today, Chairperson of the IPA CIS Council, Speaker of the Federation Council of the Federal Assembly of the Russian Federation Valentina Matvienko held a number of bilateral meetings with the heads of parliamentary delegations to the IPA CIS in the Tavricheskiy Palace - the IPA CIS headquarters.
During the meeting with the Speaker of the National Assembly of the Republic of Armenia Ararat Mirzoyan, the parties discussed inter-parliamentary interaction of the two countries and noted the high level of the Russian-Armenian parliamentary dialogue.
The Head of the Armenian delegation presented Valentina Matvienko with the Medal of Honor of the National Assembly of the Republic of Armenia. "I consider it as a recognition not only of personal merits, but also as a reflection of the great attention of the Armenian parliament to the development of a dialogue with Russian legislators", said the Chairperson.
During the conversation with Speaker of the Senate of the Parliament of the Republic of Kazakhstan Maulen Ashimbayev the parties touched upon the issues of bilateral and regional agenda. According to Valentina Matvienko, the countries had developed good contacts, which did not cut off even during the pandemic.
Valentina Matvienko and Maulen Ashimbayev also exchanged their views on the preparation for the 17th Russia – Kazakhstan Interregional Cooperation Forum. In addition, the Speaker of the Federation Council invited the Kazakh delegation to take part in the 2022 Global Conference on Inter-Religious and Inter-Ethnic Dialogue.
During the meeting with Speaker of the Jogorku Kenesh of the Kyrgyz Republic Talant Mamytov, Valentina Matvienko highly appreciated the active work of the Kyrgyz MPs within the IPA CIS and the ongoing dialogue between the parliaments of the two countries. She also noted the activities of the Russian MPs in observation missions at the early elections of the President of the Kyrgyz Republic and the Referendum on the Draft Law on the Constitution of the Kyrgyz Republic.
During the meeting of Valentina Matvienko and Speaker of the Parliament of the Republic of Moldova Zinaida Greceanîi, the development of inter-parliamentary ties was also a central topic. The parties supported continuing of a constructive inter-parliamentary dialogue, including within the framework of the groups of friendship.
---