---
Heads of Parliamentary Delegations Took Stock of IPA CIS Spring Session
16 April 2021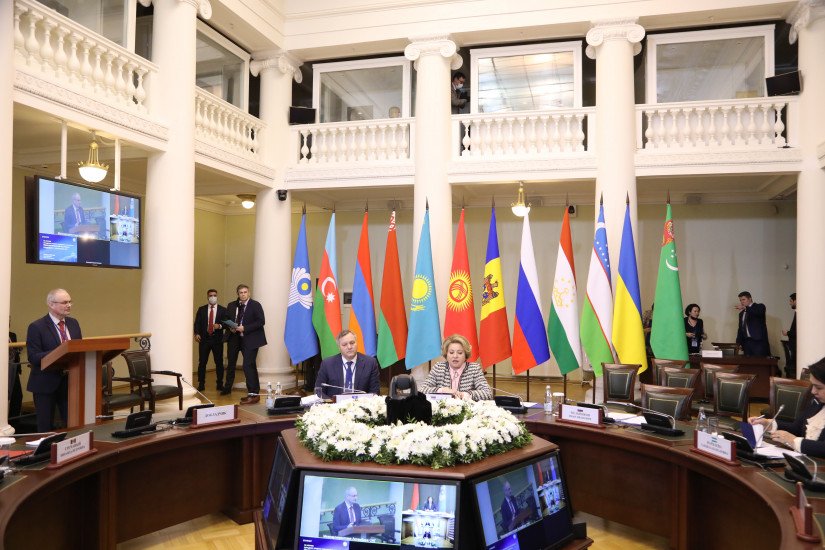 Today, during the briefing in the Tavricheskiy Palace the heads of the parliamentary delegations of the CIS Interparliamentary Assembly summed up the results of the events held on 15-16 April.
Speaker of the Federation Council of the Federal Assembly of the Russian Federation, Chairperson of the IPA CIS Council Valentina Matvienko noted a wonderful atmosphere of these days marked by the long-awaited personal meetings of parliamentarians, who participated in the meetings in person for the first time since the COVID-19 pandemic.
The IPA CIS Council Chairperson noted a great interest of international participants in the international parliamentary conference "Global Threats and Challenges in the Context of the COVID-19 Pandemic. Terrorism and Violent Extremism", which took place the day before and brought together 278 people from 42 countries and 19 international organizations.
Speaker of Senate of the Oliy Majlis of Republic of Uzbekistan Tanzila Narbaeva commended the effective cooperation among the CIS countries in various areas, including migration, which had continued despite the pandemic. She told that the autumn session 2022 will be held in the Republic of Uzbekistan.
Speaker of the Milli Mejlis of the Azerbaijan Republic Sahiba Gafarova particularly stressed among the issues considered at the session the preparation for the Third Eurasian Women's Forum, which is a unique opportunity for women to prove what they can do for the development of the global agenda.
Speaker of Senate of Parliament of Republic of Kazakhstan Maulen Ashimbayev particularly noted interesting presentations made during the sessions and fruitful bilateral meetings and declared that the spring session 2022 would take place in Almaty.
Speaker of the Jogorku Kenesh of the Kyrgyz Republic Talant Mamytov noted a heavy agenda, including such priority issues as countering terrorism and extremism and fighting the pandemic.
Speaker of the Parliament of the Republic of Moldova Zinaida Greceanii highlighted the important model laws adopted by the CIS Interparliamentary Assembly on migration, social and public health issues.
Chair of the Standing Committee of the National Assembly of the Republic of Armenia on State and Legal Affairs Vladimir Vardanyan highly commended the inter-parliamentary format of cooperation proposed by the IPA CIS.
Speaker of the Council of Republic of the National Assembly of the Republic of Belarus Natalya Kochanova told about the Concept of the Presidency of the Republic of Belarus in the CIS, which featured about 100 events and was aimed at the growth of the economy, improving living standards and ensuring better cooperation to address the common challenges.
---