---
Council of Legislators of Russia Discussed Measures on Developing Economy in Face of Sanctions Pressure
27 April 2022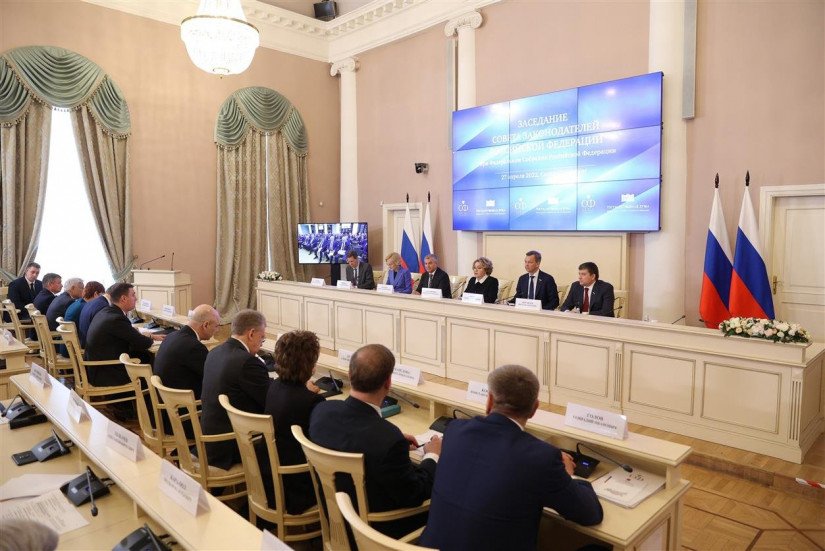 Today, the Council of Legislators of the Russian Federation met in the Tavricheskiy Palace of St. Petersburg on the Day of Russian parliamentarism. Speaker of the Federation Council of the Federal Assembly of the Russian Federation, Chairperson of the IPA CIS Council Valentina Matvienko, Speaker of the State Duma of the Federal Assembly of the Russian Federation Vyacheslav Volodin, senators, MPs, heads of legislative assemblies of federal subjects and representatives of the Government of the country took part in the meeting.
The discussion was focused on the measures to implement a plan of priority actions ensuring the development of the Russian economy in the context of sanctions and issues of ensuring the financial stability of the regions.
Valentina Matvienko opened the event and noted that parliamentarism in Russia is a multi-level, constantly developing system, which is aimed to ensure effective communication with citizens and take into account their interests.
Speaker of the Federation Council believes that new challenges provide unique opportunities for development, while solidarity, cohesion of all branches and levels of public authorities play a special role. She paid special attention to monitoring the implementation of the moratorium on inspections of entrepreneurs in the constituent entities of the Federation.
Valentina Matvienko stressed that the main task of regional parliamentarians in these conditions was to make timely decisions and form a legislative framework in order to complement and strengthen federal support measures taking into account the business peculiarities of relevant regions.
According to the press service of the State Duma, Vyacheslav Volodin agreed that the current situation could be used for the benefit of the country as a unique chance to create a nationally oriented economy.
Photo: http://council.gov.ru/, http://duma.gov.ru/
---