---
First Dialogue of Women of Central Asia and Russia held in Ashgabat
13 May 2022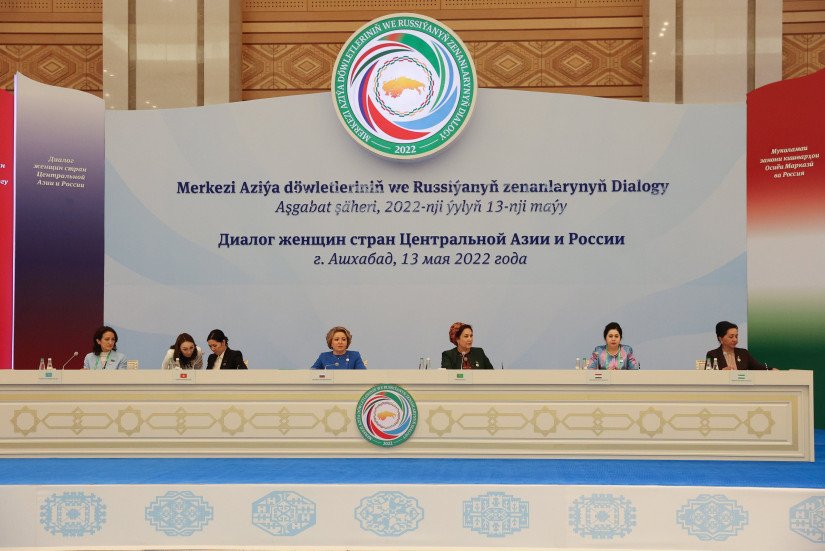 During a working visit to Turkmenistan, Speaker of the Federation Council of the Federal Assembly of the Russian Federation, Chairperson of the Interparliamentary Assembly of the CIS Member Nations Valentina Matvienko participated in the plenary session of the first Dialogue of Women of Central Asia and Russia.
The event was opened by Speaker of the Mejlis Milli Gengesh of Turkmenistan Gulshat Mummedova.
Valentina Matviyenko emphasize in her speech that the Dialogue of Women of Central Asian Countries was established at the end of 2020. It has become an authoritative regional platform for discussing the role of women in public and political life. Valentina Matvienko stressed that the leaders of the Central Asian States and Russia pay special attention to the advancement of women's agenda. As an example of support for the women's movement, Valentina Matvienko noted the Eurasian Women's Forum, which brings together the representatives of more than 100 countries of the world, including Central Asian countries.
Deputy Speaker of the Federation Council Galina Karelova noted that it was the women of the Central Asian States who first proposed to maintain the format of regular meetings with the Russian Federation to discuss the global and regional agenda, as well as the development of cooperation on key social and economic issues. In order to fully realize the creative potential of women from the Central Asian countries, she proposed to organize a special communication platform within the Eurasian Women's Forum.
Speaker of the Senate of the Oliy Majlis of the Republic of Uzbekistan Tanzila Narbayeva, Special Representative of the United Nations Secretary-General for Central Asia, the Head of the UN Regional Center for Preventive Diplomacy for Central Asia (UNRCCA) Natalia Gherman and UNDP Resident Representative in Turkmenistan Narine Sahakyan addressed the meeting participants.
MPs from the Republic of Kazakhstan, the Kyrgyz Republic, Republic of Tajikistan, Republic of Uzbekistan spoke about the role of women in maintaining international dialogue for peace and sustainable development, preserving cultural identity, developing entrepreneurial activity and addressing environmental issues.
According to the press service of the Federation Council, the meeting resulted in the adoption of the Declaration of the Dialogue of Women of Central Asia and Russia, which, inter alia, notes the achievements of these countries in strengthening regional and international cooperation to ensure peace, stability and sustainable development.
On the same day, participants laid flowers at the monument of the Eternal Glory at the memorial complex "People's Memory" to honor the memory of those who fell in the Great Patriotic War and in other battles for the Motherland, the monument to the memory of the victims of the 1948 Ashgabat earthquake, a monument to those who fell during the Battle of Geok Tepe.
---