---
Kazakhstani Parliament To Legally Ensure Implementation of Errands Voiced in Presidential Address
01 September 2020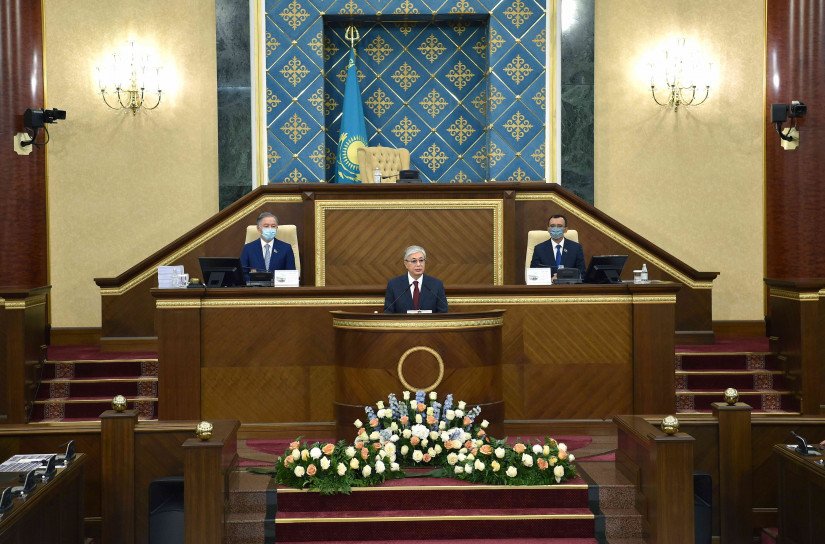 On 1 September 2020, at the opening of the sixth session of the Parliament of Kazakhstan of the sixth convocation, President of the Republic of Kazakhstan Kassym-Jomart Tokayev delivered an Address to the people "Kazakhstan in a New Reality: Time for Action", presenting a strategy for the country's further development.
Digitalization is designated as a basic element of all reforms and a key instrument for achieving national competitiveness in the Address. At the same time, the Address mentions that political reforms should be aimed at the wider involvement of citizens in administration of the state.
Speaker of the Mazhilis of the Parliament of the Republic of Kazakhstan Nurlan Nigmatulin and Speaker of the Senate of the Parliament of the Republic of Kazakhstan Maulen Ashimbayev noted the scale of the tasks set by the President.
The Senate will undertake the implementation of strategic tasks in a renewed composition – elections to the Senate were held on 12 August 2020.
At today's meeting of the Senate, Nurlan Abdirov was elected new Deputy Speaker of the Senate of the Parliament of the Republic of Kazakhstan. According to the press-service of the Senate, the composition of the Senate Committees was also approved, their Chairpersons were elected: Vladimir Volkov headed the Committee on Constitutional Legislation, Judicial System and Law Enforcement Bodies, Olga Perepechina headed the Committee of Finance and Budget, Mukhtar Kul-Mukhammed headed the Committee on International Relations, Defense and Security, Dauren Adilbekov headed the Committee in Economic Policy, Innovative Development and Entrepreneurship, Murat Baktiyaruly headed the Committee on Social and Cultural Development and Science and Ali Bektayev headed the Committee on Agrarian Issues, Environmental Management and Rural Development.
Photo: http://www.parlam.kz
---