---
Valentina Matvienko: In Today's Turbulent World Parliamentary Cooperation Is Especially in Demand
07 September 2021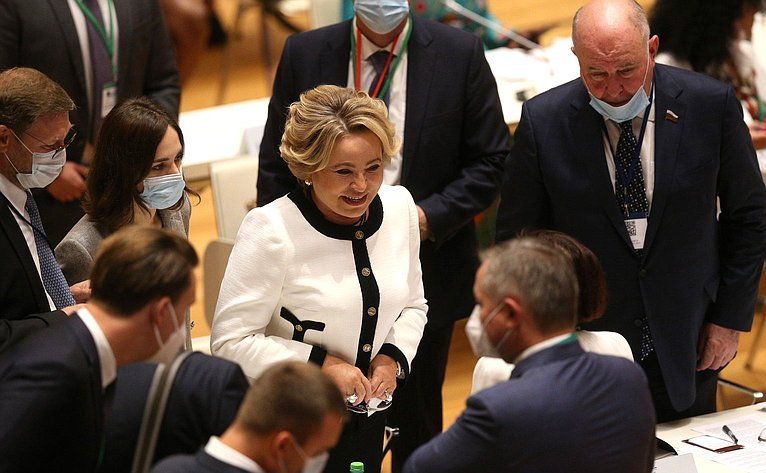 Speaker of the Federation Council of the Federal Assembly of the Russian Federation, Chairperson of the Council of the CIS Interparliamentary Assembly Valentina Matvienko participated in the opening ceremony of the Fifth World Conference of Speakers of Parliament, which is taking place in Vienna (Republic of Austria).
The event is organized by the Inter-Parliamentary Union (IPU) in cooperation with the United Nations and the Austrian Parliament. The Conference brought together parliamentarians from 115 countries, including 103 speakers of national parliaments, particularly Speaker of the Milli Mejlis of the Azerbaijan Republic Sahiba Gafarova, Speaker of the National Assembly of the Republic of Armenia Alen Simonyan, Speaker of the Council of the Republic of the National Assembly of the Republic of Belarus Natalya Kochanova, Speaker of the Mazhilis of the Parliament of the Republic of Kazakhstan Nurlan Nigmatulin, Speaker of the Jogorku Kenesh of the Kyrgyz Republic Talant Mamytov, Speaker of the Senate of the Oliy Majlis of the Republic of Uzbekistan Tanzila Narbaeva, etc. The delegation of the Interparliamentary Assembly of the CIS Member Nations is represented by Chair of the IPA CIS Permanent Commission on Science and Education Lilia Gumerova and Secretary General of the IPA CIS Council Dmitriy Kobitskiy.
The plenary session of the Conference was opened by Secretary General of the Inter-Parliamentary Union Martin Chungong.
During the Conference, Valentina Matvienko will speak at the interactive general debate on the global response to the COVID-19 pandemic. Members of the Russian parliamentary delegation participate in thematic debates on sustainable development, gender equality, combating misinformation and hate speech, parliamentary oversight of emergency measures imposed by governments, and a panel discussion on the role of parliaments in global governance.
According to Valentina Matvienko, serious topics and relevant issues were raised at the Conference. "Parliamentary cooperation has always played an important role. In today's turbulent world, it is especially in demand. All conditions for such an effective dialogue have been created in Vienna, the highest representation has been ensured. This reflects the interest of the heads of parliaments of different countries to meet and discuss problems, and find solutions," told the Speaker of the Federation Council.
Photo: http://council.gov.ru/
---