---
Valentina Matvienko and Alen Simonyan Discussed Issues of Inter-Parliamentary Cooperation
04 October 2021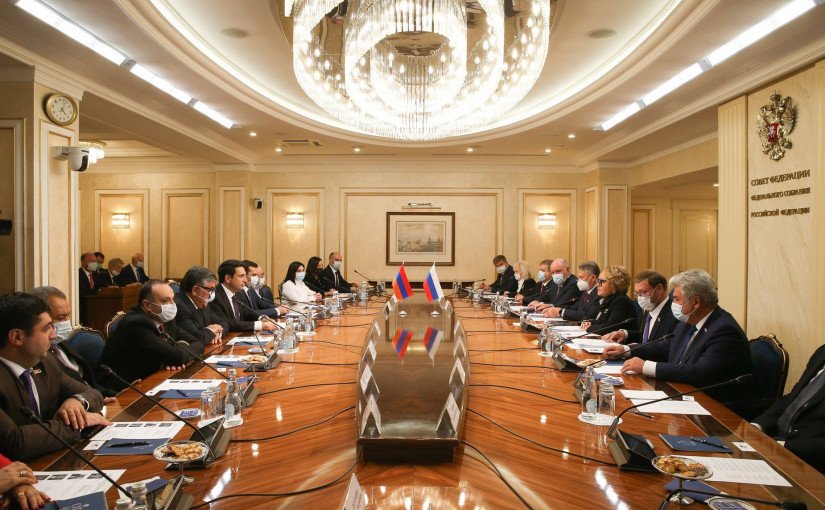 Chairperson of the IPA CIS Council, Speaker of the Federation Council of the Federal Assembly of the Russian Federation Valentina Matvienko held a meeting in Moscow with Speaker of the National Assembly of the Republic of Armenia Alen Simonyan. According to the press service of the chamber of regions, the main topic of the discussion was the issues of inter-parliamentary and regional cooperation.
Valentina Matvienko noted the historical tradition of friendly relations and strategic partnership of the two countries and stressed that the intensive high-level contacts set the scene for the interaction of Russia and Armenia. The Speaker of the Federation Council noted the commitment of the MPs to develop dialogue and strengthen ties, including within such international platforms as the IPA CIS. She also underlined the importance of giving an impetus to regional cooperation at the parliamentary level. According to Valentina Matvienko, over 70 subjects of the Russian Federation maintain relations with Armenia. Seven Russian-Armenian interregional forums have taken place, and the dates for the eights one are to be coordinated this year. Besides, the Speaker proposed the extension of the Program of Interregional Cooperation that expired in 2021.
Speaker of the National Assembly of the Republic of Armenia Alen Simonyan commended the cooperation with the Russian MPs and expressed his intention to remain engaged within all the parliamentary platforms.
Valentina Matvienko invited the Armenian delegation to participate in the Eurasian Women's Forum to be held on 13–15 October 2021, as well as in the World Conference on Intercultural and Interfaith Dialogue to be held in May 2022.
---