---
IPA CIS Observers Started Monitoring General Elections in Republic of Serbia
01 April 2022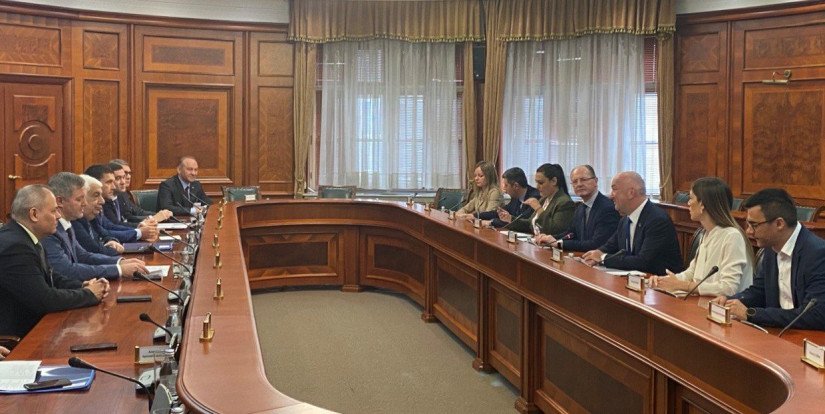 In accordance with the invitation of Chairman of the Republic Electoral Commission of the Republic of Serbia Vladimir Dimitrijević, the international Observer Team from the CIS Interparliamentary Assembly takes part in the monitoring of the elections to the National Assembly of the Republic of Serbia and the elections of the President of the Republic of Serbia scheduled for 3 April 2022.
The Observer Team included CIS MPs from the Azerbaijan Republic, the Republic of Armenia, the Republic of Belarus, the Republic of Kazakhstan, the Kyrgyz Republic, the Russian Federation, as well as IPA CIS Council Secretariat staff members headed by IPA CIS Council Secretary General Dmitriy Kobitskiy.
On 1 April 2022, the IPA CIS international observers held a meeting with candidates: Chairman of the Serbian People's Party, Minister of Innovations and Technological Development of the Republic of Serbia, Co-Chair of the Russia-Serbia Intergovernmental Committee for Trade, Economic, Scientific and Technical Cooperation Nenad Popović and Secretary General of the Serbian People's Party, member of the National Assembly of the Republic of Serbia of the twelfth convocation Jovan Palalić.
Nenad Popović told about the campaign, the main methods and forms of campaigning used by the party in the elections. Jovan Palalić commended the activities of the election administration bodies and stressed that the Republic Electoral Commission and other public authorities made significant efforts to address the earlier concerns of international observers.
Dmitriy Kobitskiy informed the participants of the meeting about the composition of the group of international observers and the program of its work. He noted that the CIS Interparliamentary Assembly had performed the monitoring of nine election campaigns and referendums in Serbia since 2007.
---