---
Meeting of CIS and OSCE/ODIHR International Observers at Kyrgyz Parliamentary Elections Took Place
28 November 2021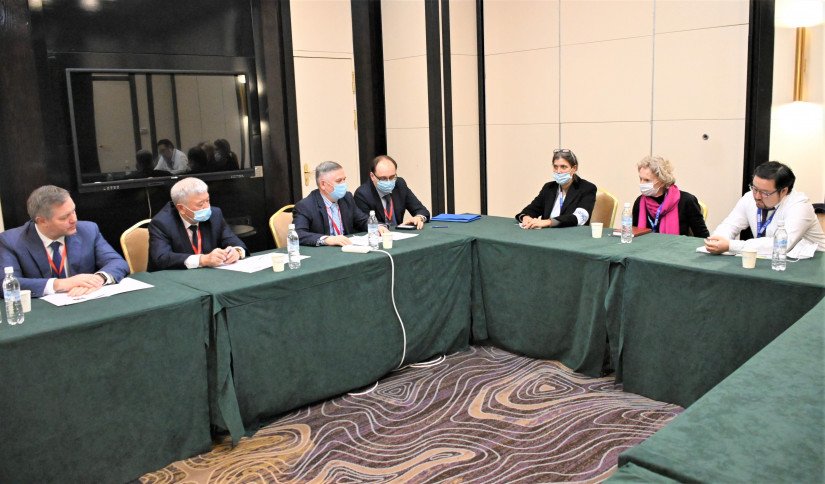 Head of the CIS Mission to the elections to the Jogorku Kenesh of the Kyrgyz Republic Vasiliy Volkov and IPA CIS Observer Team Coordinator, Chair of the Committee of the Senate of the Oliy Majlis of the Republic of Uzbekistan on Defense and Security Issues Kutbidin Burkhanov discussed the course of election campaign with Head of the OSCE/ODIHR Election Observation Mission Audrey Glover.
Secretary General of the IPA CIS Council Dmitriy Kobitskiy and Director of the International Institute for Monitoring the Development of Democracy, Parliamentarism and Observance of Electoral Rights of Citizens of the Member States of the IPA CIS (IIMDD IPA CIS) Ivan Mushket also attended the meeting.
The Head of the CIS mission noted that the traditional meetings of mission representatives enable the exchange of views in order to get a broad picture of situation. Vasiliy Volkov spoke about the composition of the CIS mission, which included MPs from the Commonwealth countries.
In his turn, Kutbidin Burkhanov introduced the methodology of long-term and short-term monitoring carried out by IPA CIS Observer Team.
---