---
CIS MPs Discussed a Number of Model Laws in Field of Legal Relations
14 April 2022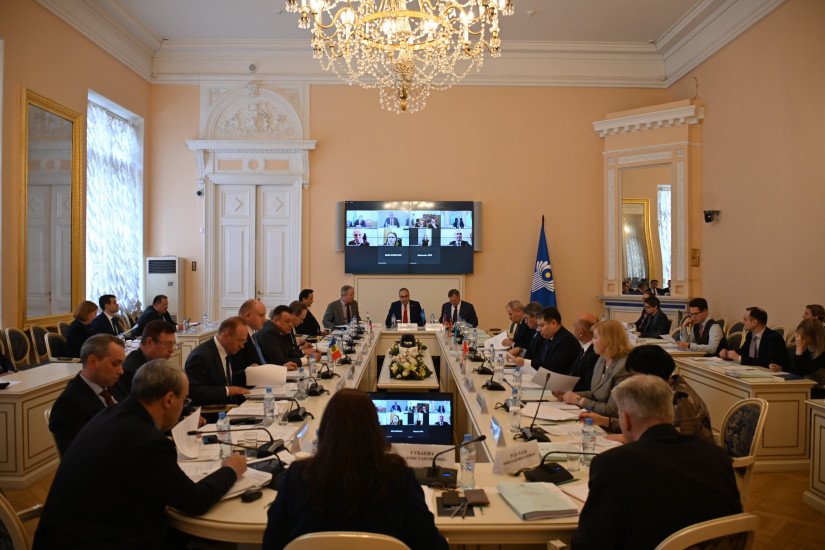 Today, a meeting of the IPA CIS Permanent Commission on Legal Issues was held in the Tavricheskiy Palace – the IPA CIS headquarters.
The event brought together MPs from the Azerbaijan Republic, the Republic of Armenia, the Republic of Belarus, the Republic of Kazakhstan, the Kyrgyz Republic, the Republic of Moldova, the Russian Federation and the Republic of Tajikistan, academia and experts. Deputy Chair of the Committee, Chair of the Standing Committee of the National Assembly of the Republic of Armenia on State and Legal Affairs Vladimir Vardanyan chaired the meeting.
At the beginning of the meeting Chair of the Committee of the Senate of the Parliament of the Republic of Kazakhstan on Constitutional Legislation, Judicial System and Law Enforcement Agencies Vladimir Volkov and Deputy Chair of the Legal Committee of the Parliament of the Republic of Moldova on Appointments and Immunities Vasile Bolea were elected Deputy Chairs of the Commission.
The MPs were briefed on the outcomes of the meeting of the Expert Advisory Board at the IPA CIS Permanent Commission on Legal Issues, which was held on 2 March 2022. Chair of the Expert Advisory Board, judge of the 1st Western District Military Court, Member of the Council of the St. Petersburg Regional Branch of the "Russian Association of Judges" Yury Kozlov made a presentation on this issue.
Professor of the Department of Commercial Law of the Faculty of Law of St. Petersburg State University Dmitriy Petrov presented to the MPs the draft Model Law on Insurance Activities. Based on the results of the discussion, the Commission decided to approve the draft model law in general and ask the IPA CIS Council to include this issue in the agenda of the next IPA CIS plenary session. IPA CIS Council Secretary General Dmitriy Kobitskiy thanked Dmitriy Petrov for the long and fruitful cooperation and presented him with a diploma from the IPA CIS Council Secretariat.
Director of the IIMDD IPA CIS Ivan Mushket informed the participants about the draft Model Regulations on Branches and Offices of the International Institute for Monitoring the Democracy Development, Parliamentarianism and Suffrage Protection of Citizens of IPA CIS Member Nations (IPA CIS IIMDD). The Commission agreed on the draft Regulations and decided to ask the IPA CIS Council to consider this document at the next meeting.
The members of the Commission also discussed the Model Laws on Financial Transactions, on Enforcing the Fulfillment of Obligations, on Funds, on Consumer Protection (revised), on Tort Obligations, on Obligations Arising from Unjust Enrichment and Acting for Another Without Authority, on Countering Cybercrime and on Investment and Trust Banking. These documents will be sent to the IPA CIS parliaments for expert opinions.
In addition, the meeting participants considered proposals for the draft Long-Term Plan for Model Law-making in the Commonwealth of Independent States for 2023–2025 and summed up the results of the Commission's activities in 2021.
---