---
Experts Discussed Draft Revised CIS Model Code for Intellectual Property
05 April 2022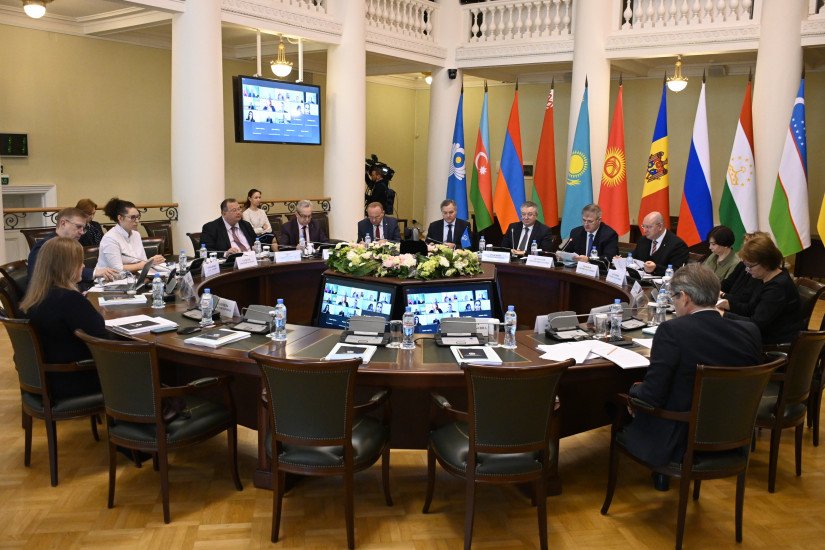 On 5 April 2022, a meeting of the IPA CIS Expert Advisory Board on Science and Education took place in the Tavricheskiy Palace in a mixed format.
The meeting brought together the representatives of the parliaments, relevant agencies, as well as science and education institutions of the Azerbaijan Republic, the Republic of Belarus, the Republic of Kazakhstan, the Kyrgyz Republic, the Republic of Moldova, the Russian Federation, the Republic of Tajikistan and the Republic of Uzbekistan. The model laws developers, invited experts, staff members of the CIS Executive Committee and the IPA CIS Council Secretariat also took part in the meeting.
Chair of the IPA CIS Expert Advisory on Science and Education Andrey Rudskoy led the event.
Secretary General of the IPA CIS Council Dmitriy Kobitskiy delivered a welcoming speech at the meeting. He noted that a large number of the CIS experts were interested in the activities of the Board of Experts.
The meeting focused on the draft of the revised CIS Model Code of Intellectual Property. Vice-rector for Academic Policy and Organization of the Educational Process of the Russian State Academy of Intellectual Property (RGAIS) Alexander Larin presented a report on the subject and described the structure and new elements of the document.
During the meeting, the participants discussed the draft Model Law on State Certification (Accreditation) of subjects of Scientific and Scientific-Technical Activity. Furthermore, Deputy Head of the System Analysis Center of Belarus State Economic University Violetta Ladutko presented the draft amendments to the Model Law on Scientific and Technological Expertise. Head of the Educational and Methodological Department of St. Petersburg State Chemical and Pharmaceutical University Daria Gritsanenko spoke about the draft Recommendations on Coordinated Approaches to the Formation of Modern Pharmaceutical Education System in the CIS Member Nations.
The members of the Expert Advisory Board assessed the presented model laws, decided to finalize them, taking into account the received proposals, and submit them to the IPA CIS Permanent Commission on Science and Education.
---