---
Role of Innovations and Medical Supplies in Managing Public Health in CIS Countries Discussed in Tavricheskiy Palace
30 March 2022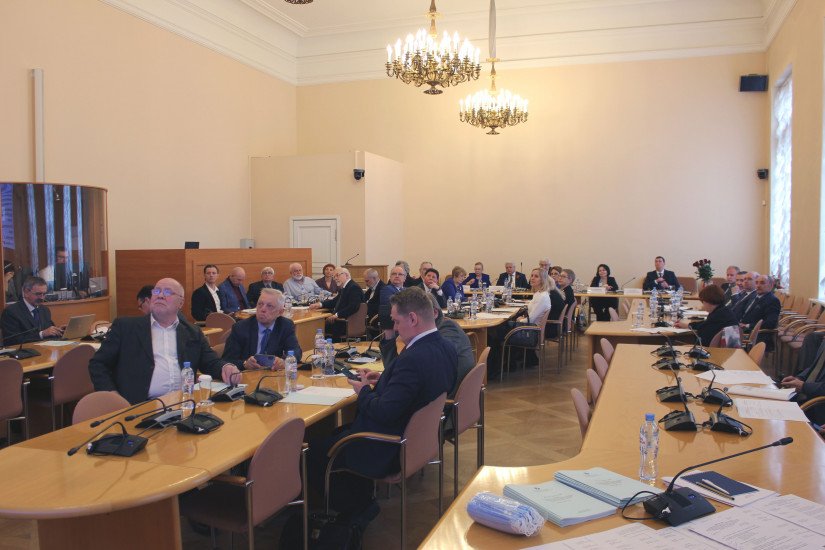 Today, a meeting of the IPA CIS Expert Advisory Board on Public Health on the topic "The Role of Innovative Medical Technologies and Medical Supplies in Managing Public Health in the CIS Member Nations" was held in the Tavricheskiy Palace – the IPA CIS headquarters.
The event brought together MPs from the Azerbaijan Republic, the Republic of Belarus, the Republic of Tajikistan, as well as specialists, experts, representatives of the academic community of the Republic of Kazakhstan and the Russian Federation.
At the beginning of the meeting Chair of the IPA CIS Expert Advisory Board on Public Health, Academician of the Russian Academy of Sciences Yuriy Shcherbuk was awarded the medal "For Strengthening of Parliamentary Cooperation".
Vice-Governor of St. Petersburg Oleg Ergashev and Academician-Secretary of the Department of Medical Sciences of the Russian Academy of Sciences Vladimir Starodubov delivered welcoming speeches to the participants of the meeting.
The discussion was focused on maintaining the sustainable development of healthcare systems and medical organizations in the new economic conditions.
It was noted that the industry faced new challenges, such as rising costs of medical services, a sharp decline in medical tourism. They are caused by dependence on foreign pharmaceutical substances, the use of foreign medical equipment, equipment and consumables, etc.
Yuriy Shcherbuk noted a number of possible measures, such as the expansion of state programs for free medical supplies, an increase in the budget of the Compulsory Medical Insurance Fund, the improvement of the public procurement mechanism, the introduction of rental of the most expensive medical equipment, as well as expanding cooperation with the BRICS and the CIS countries and updating the regulatory framework.
The participants also spoke about the mechanisms of international innovative cooperation among the CIS Member Nations, including the draft 2030 CIS Intergovernmental Program of Innovative Cooperation, and the model laws that are currently under the development by the IPA CIS in the field of public health: on Medical Supplies in the CIS Member Nations and on Professional Liability Insurance ​​of Medical Workers.
---