---
MPs Approved Establishment of an Expert Advisory Board under IPA CIS on Ecology and Environmental Management
12 May 2022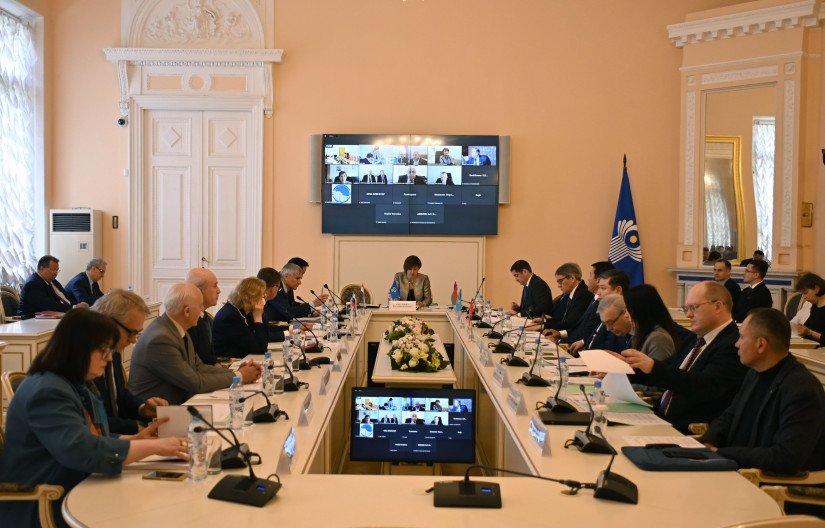 Today the meeting of the IPA CIS Permanent Commission on Agrarian Policy, Natural Resources and Ecology took place in the Tavricheskiy Palace – the IPA CIS headquarters.
The meeting brought together MPs from the Azerbaijan Republic, the Republic of Armenia, the Republic of Belarus, the Republic of Kazakhstan, the Kyrgyz Republic, the Republic of Moldova, the Russian Federation and the Republic of Tajikistan, as well as IPA CIS Council Secretariat staff members, experts and representatives of relevant universities.
The members of the Commission outlined the key directions of model law-making in the field of agrarian policy, natural resources and ecology in the coming years and the participation of experts in this activity in this context.
Chair of the IPA CIS Permanent Commission, Chair of the Permanent Committee of the Parliament of the Republic of Moldova on Agriculture and Food Industry Vladimir Bolea highly appreciated the role of the expert community in the development of model legislation. He recalled that during the meeting of the IPA CIS Council on 29 March 2022 in Almaty, dedicated to the 30th anniversary of the organization, Chairperson of the IPA CIS Council, Speaker of the Federation Council of the Federal Assembly of the Russian Federation Valentina Matvienko pointed out the great importance of establishing specialized expert advisory boards under the IPA CIS.
Today, the Commission members decided to establish the Expert Advisory Board under the IPA CIS on Ecology and Environmental Management in order to provide expert support for the legislative activities of the Commission and instructed the IPA CIS Council Secretariat to draft the relevant provisions.
Further, the members of the Commission considered the drafts of the model laws on Environmental Safety (revised), on Industrial and Household Waste (revised), on Protected Natural Landscapes (revised), on Access to Environmental Information (revised), on Environmental Funds, on Beekeeping, on Assessing the Potential Impact of Mining Activities on the Public Health in the Adjacent Territories. The members of the commission approved the above-mentioned model laws and decided to send them to the IPA CIS parliaments for expert opinions.
In the format of the meeting of the working group, the draft Model Law on Organic Agriculture was also considered. The draft was approved in general; and Executive Director of the National Organic Union of the Russian Federation Oleg Mironenko was elected head of the working group for its preparation.
2022 was declared the International Year of Sustainable Mountain Development by the UN General Assembly. In this regard, the MPs assessed the prospects for the implementation of the Model Law on Development and Protection of Mountain Territories, drafted by the Permanent Commission and adopted by the IPA CIS in 2020, into national legislations of the CIS countries.
The participants were also briefed on the development of legislation of the Republic of Uzbekistan in the field of agrarian policy, natural resources and the environment and on the use of model legislative acts adopted by the IPA CIS at the initiative of the Commission.
---