---
Unification of National Cultures of Commonwealth to be Discussed in St. Petersburg
21 August 2023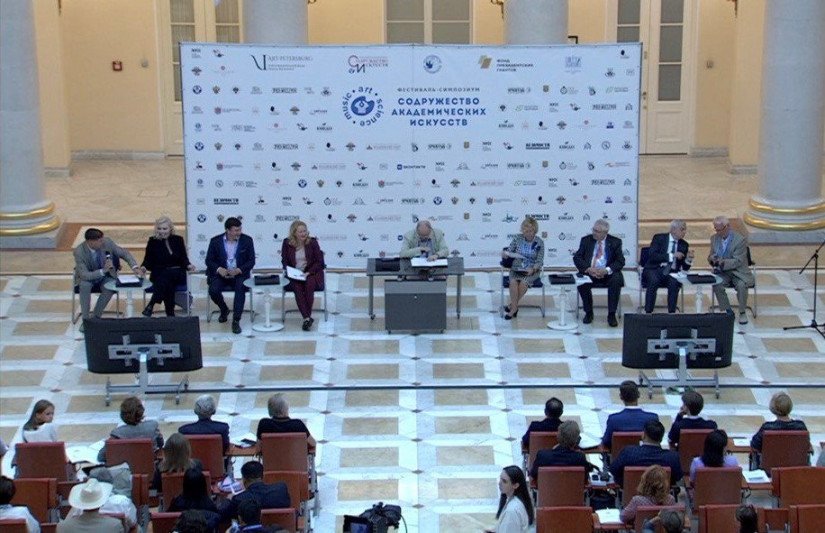 The International festival and symposium "Commonwealth of Academic Arts" is being held on 20-25 August in St. Petersburg. Specialists in culture, art and politics will share their experience and consider the main achievements, problems and ways of development of various areas of creative activity in the CIS countries and other states. The event is included in the program "St. Petersburg – the Cultural Capital of the Commonwealth".
The opening ceremony of the Festival took place on 21 August in the Boris Yeltsin Presidential Library.
A welcoming speech to the participants, organizers and guests of the Festival was sent by Secretary General of the IPA CIS Council Dmitriy Kobitskiy. He noted that holding a research-to-practice conference within the framework of the symposium touches upon a number of topical issues in the field of academic art both in the Commonwealth and globally.
Dmitriy Kobitskiy highlighted the active work of the Assembly aimed at the development of creative potential in the CIS countries. He invited all the festival participants to take part in the upcoming international events organized by the IPA CIS, such as the International Forum "Commonwealth of Fashion" and the international conference "Russian Language as a Basis for Integration Dialogue in the CIS".
Deputy Head of the IPA CIS Council Secretariat Elena Kuzina and Secretary of the IPA CIS Permanent Commission on Culture, Information, Tourism and Sport Igor Minin took part in the Festival.
The Festival will include the International Forum "Commonwealth of Academic Arts: the Past and the Present", where the development of fine arts and opera in the Commonwealth and general issues of modern politics and diplomacy of the CIS countries in the historical and cultural context: achievements, problems, trends will be discussed. An exhibition of works by leading CIS artists will also take place.
The International festival and symposium "Commonwealth of Academic Arts" is aimed at building long-term relations between the CIS academic communities, as well as between partner states for the development and enrichment of national cultures.
Among the guests are representatives of the ministries of culture of the Commonwealth countries, parliamentarians, presidents of national academies of sciences and arts, directors of conservatories and theaters of the CIS, scientific and cultural intellectuals of Member Nations.
The Festival is supported by the Presidential Grants Fund, the Federal Agency for the Commonwealth of Independent States, Compatriots Living Abroad and International Humanitarian Cooperation (Rossotrudnichestvo), the CIS Executive Committee, the Scientific Research Museum of the Russian Academy of Arts, the St. Petersburg State Academic Capella, the Boris Yeltsin Presidential Library and the Museum of Political History of Russia.
---