---
IPA CIS Awards Presented in Uzbekistan
05 October 2022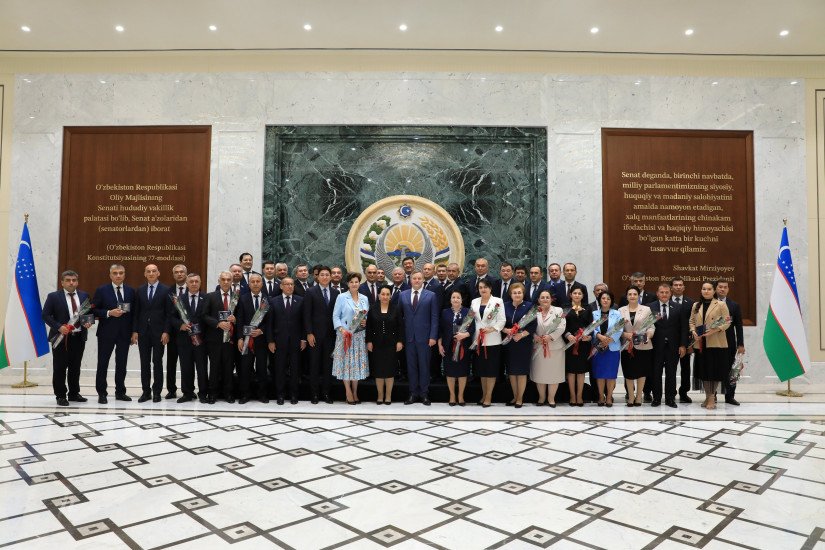 The ceremony of awarding jubilee medals and commemorative signs to MPs, representatives of ministries and departments, who were awarded in accordance with the resolution of the IPA CIS Council on the occasion of the 30th anniversary of the organization, took place in the Senate of the Oliy Majlis of the Republic of Uzbekistan. The ceremony was attended by Speaker of the Senate of the Oliy Majlis of the Republic of Uzbekistan Tanzila Narbayeva and Secretary General of the IPA CIS Council Dmitriy Kobitskiy.
Tanzila Narbayeva noted that the IPA CIS had been serving as a platform for joint discussion and decision-making on current issues of strengthening cooperation between the CIS Member Nations during 30 years. The Speaker also noted a solid contribution of the IPA CIS to the development of democratic processes, parliamentarism and civil society institutions in the CIS.
The medal and commemorative sign "30th Anniversary of the IPA CIS" were established by the Resolution of the IPA CIS Council at the autumn session in November 2021. The medal is awarded for merits in the development and strengthening of parliamentarism, for contribution to the development and improvement of the legal foundations of the functioning of the CIS, strengthening international relations and interparliamentary cooperation. The commemorative sign is awarded for assistance in the activities of the IPA CIS and its bodies.
The awards are given to citizens of the Commonwealth and other countries, as well as the CIS structures and bodies, and other international organizations.
Photo: www.parlament.tj
---