---
Russian Senators Draw Outcomes of Year
30 December 2020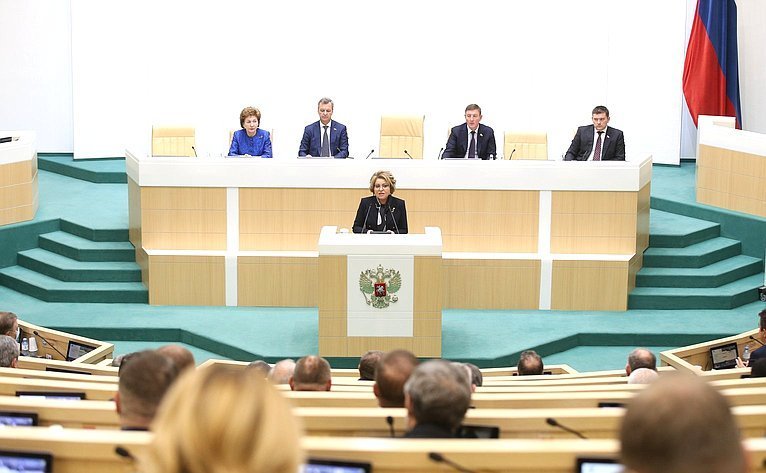 Today, Speaker of the Federation Council of the Federal Assembly of the Russian Federation Valentina Matvienko drew the outcomes of the chamber's activities in 2020.
"The outgoing year made us take a fresh look and rethink many fundamental things. This includes the efficiency of public institutions, the ability of the political, economic and social system itself to mobilize under extreme conditions, but, most importantly, we witnessed the readiness of citizens and the state to confront the common danger together" – said Valentina Matvienko.
In her opinion, the approval of the amendments to the Constitution has become the main event in public and political life in 2020. "In fact, they made concern for the individual the main reference point for authorities at all levels. And all our work as legislators, as representatives of the constituent entities of the Federation should also be subordinated to this ambitious and truly humanistic goal", stressed Valentina Matvienko.
According to the Speaker of the Federation Council, special responsibility is imposed on the chamber by the fact that, in accordance with the amendments, it is delegated new weighty powers.
In general, the Federation Council has worked professionally and productively in the outgoing year, she said. "During twenty-four sessions, we considered over 550 laws, including a package of the most important documents introduced by the President of the Russian Federation".
In the outgoing year, the senators were substantively engaged in environmental safety issues, noted Valentina Matvienko. Another important area was the improvement of the forestry management system, she added.
It was separately noted that despite the closure of borders intensive inter-parliamentary cooperation continued, including within the Inter-Parliamentary Union, the PACE, the BRICS Parliamentary Forum, as well as in the form of bilateral contacts.
Photo: http://council.gov.ru
---