---
Young CIS MPs Discussed Issues of "NEET Youth"
27 October 2022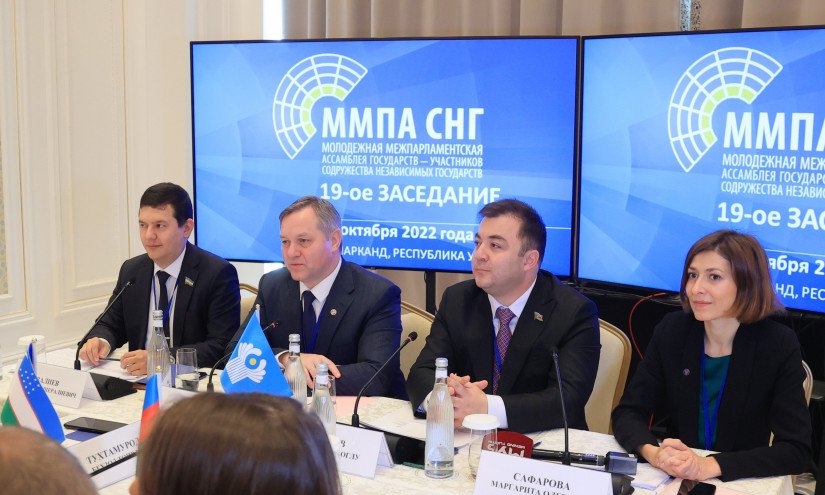 The 19th meeting of the Youth CIS Interparliamentary Assembly (YIPA CIS) was held in Samarkand.
The meeting was focused on addressing the issue of "NEET youth" – people aged 15-24 who is unemployed and not receiving an education or vocational training.
The proposal to include this issue on the agenda of the YIPA was made by the youth parliamentary delegation of Kazakhstan at the last meeting of the Assembly in St. Petersburg in June 2022.
Representatives of the "NEET youth" do not have permanent employment or earnings, which leads to dependence on financial support from relatives and state social assistance or to the search for non-traditional, and sometimes even criminal ways of earning money.
The participants from Azerbaijan, Armenia, Belarus, Kyrgyzstan, Russia, Tajikistan and Uzbekistan spoke about the solution of the problem in their respective countries, shared their experience in legal regulation of youth unemployment and ways to increase the economic activity of unemployed and uneducated youth.
Participants of the Youth Assembly summed up the results of work for the last year.
Secretary General of the IPA CIS Council Dmitriy Kobitskiy thanked member of the Committee of the Milli Majlis of the Azerbaijan Republic on Agrarian Policy, member of the Committee of the Milli Majlis of the Azerbaijan Republic on Regional Affairs Emin Hajiyev for his work as the YIPA CIS Coordinator and noted that under his leadership the young MPs had implemented a number of important and interesting projects.
The chairmanship of the Youth Assembly passed from Azerbaijan to Armenia. Member of the Standing Committee of the National Assembly of the Republic of Armenia on State and Legal Affairs Lilit Minasyan was elected new YIPA CIS Coordinator.
The YIPA decided to ask the IPA CIS Council to consider the awarding the honorary badge of the CIS Interparliamentary Assembly "For Contribution to International Youth Cooperation" to Chair of the Chamber of Young Legislators under the Federation Council of the Federal Assembly of the Russian Federation Alexander Sapronov.
---